Chemotechnique Diagnostics, Dormer Laboratories Inc.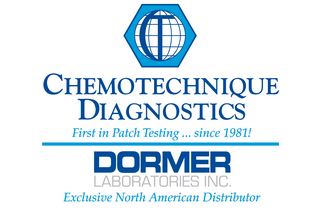 Phone: 1-416-242-6167
Email: info@dormer.com
Website: www.dormer.com
Chemotechnique Diagnostics, Malmo, Sweden, serving patch testing reliably since 1981, is recognized as a world leader in providing high quality haptens and accessories to the patch testing medical specialty. ONLY CHEMOTECHNIQUE'S 550 HAPTEN PORTFOLIO IS APPROVED BY HEALTH CANADA, so practitioners can practice patch testing with confidence. Chemotechnique's patented "IQ" chamber is leak-free and aluminum-free and available in two formats - the proven IQ-ULTRA and the water resistant IQ-ULTIMATE. Dormer Laboratories Inc., Toronto, Ontario, is Chemotechnique's North American Distributor.
---
Dormer/Chemotechnique Sponsored Session – Thursday, September 30 – 8:15am to 8:45am CT
| | |
| --- | --- |
| Thirty Years of Patch Testing Riddles! | Denis Sasseville, MD |
In order to view the sponsored session, register for the ACDS Virtual Fall Meeting by clicking here.
---
Click below for links to handout, video and social media.