Contact Allergen Bee
11th Annual CONTACT ALLERGEN BEE
Cash Prizes!!!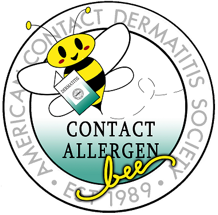 Residents! Come and test your contact allergen knowledge by participating in the 11th Annual CONTACT ALLERGEN BEE - a fun and engaging live contest for dermatology residents sponsored by DERMATITIS! Winners are awarded up to $1000 ($2000 in total prizes)! Questions are multiple choice and based on papers published in DERMATITIS from 2017 through 2019.
The contest will be held in the late afternoon of Thursday, March 19, 2020 during the annual meeting of the American Contact Dermatitis Society (ACDS), in Denver, Colorado.
Interested in joining the bee? More information will become available in the Fall of 2019 regarding the sign up process. Please contact info@contactderm.org with any questions you might have.